"Presiding over this lunacy..."

The Neon Museum of Philadelphia was established in 1983 but its foundation was laid in 1950s Philadelphia and the 1970s South.
In 1977, while teaching sociology at the University of Florida, Len Davidson opened an American Dream theme tavern, The Gamery. This multimedia scene contained racing Lionel Trains, antique pinball displays, a Hollywood celebrity booth, superhero figures, and game-playing customers decked out in hats and masks.
Presiding over this lunacy was NEON. Len and friends picked through neon boneyards and mounted dozens of alluring signs on the ceiling. The Gamery beat teaching undergrads and Len's professor persona was left in the dust.
Davidson apprenticed with Jim Williams, an old-time sign man. "Neon is an absolute art," Williams preached while rotating glass in the fires. A true believer, Davidson hit the road, scavenging Florida and New Orleans for relics and lore.
Returning to Philly in 1979 (with '59 Chevy piled high with tubing), Davidson began to unearth his hometown's magical neon history. He sought out remaining tube benders who described the city's spectacular but vanishing neon heritage. He began to design signs and acquire neglected treasures on the street.
The die was cast: Davidson Neon Design would produce new neon and the Neon Museum of Philadelphia would preserve the old. Over 40 years the twin initiatives merged, and an amazing cast of characters helped create today's NMOP.
The Neon Museum of Philadelphia is a cultural and educational organization dedicated to preserving neon signage, Philadelphia history and art, and the 20th century American roadside.  We're an American art and history museum disguised as a neon museum.
The Museum's mission focuses on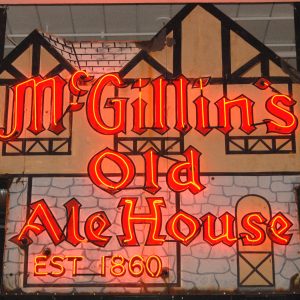 We've restored numerous signs for our collection and clients. Along the way we've recorded sign history and legend. This led to Vintage Neon, a book on classic signs, their creators, and the businesses they symbolized.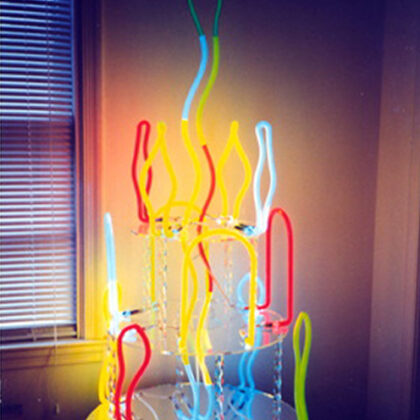 We've been designing neon since 1979. Hundreds of our sign, art, and architectural pieces light up the Philadelphia region.
We offer many collections, programs, and activities open to the public, including: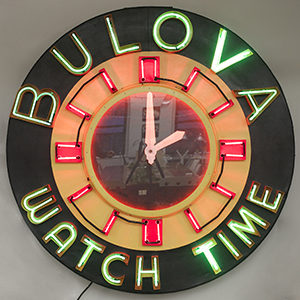 Permanent Neon Collections
complemented by artifacts, photos, oral histories, and descriptive narratives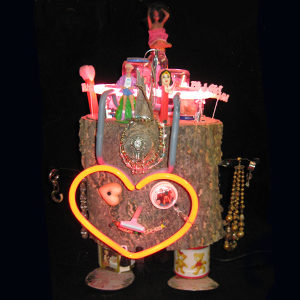 featuring local and national artists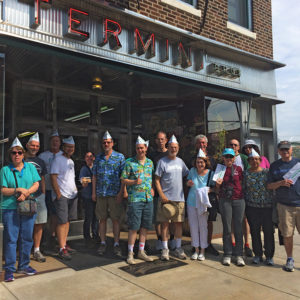 Tours, Demonstrations, & Classes

including Philadelphia bus and walking tours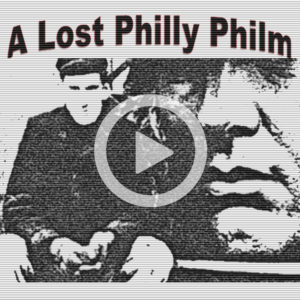 Videos & Multimedia Resources
with an archive featuring neon, Philadelphia history, and roadside America
The Museum also provides a one-of-a-kind setting for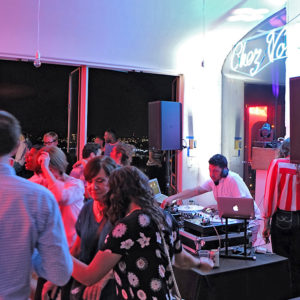 Parties, Meetings, & Special Events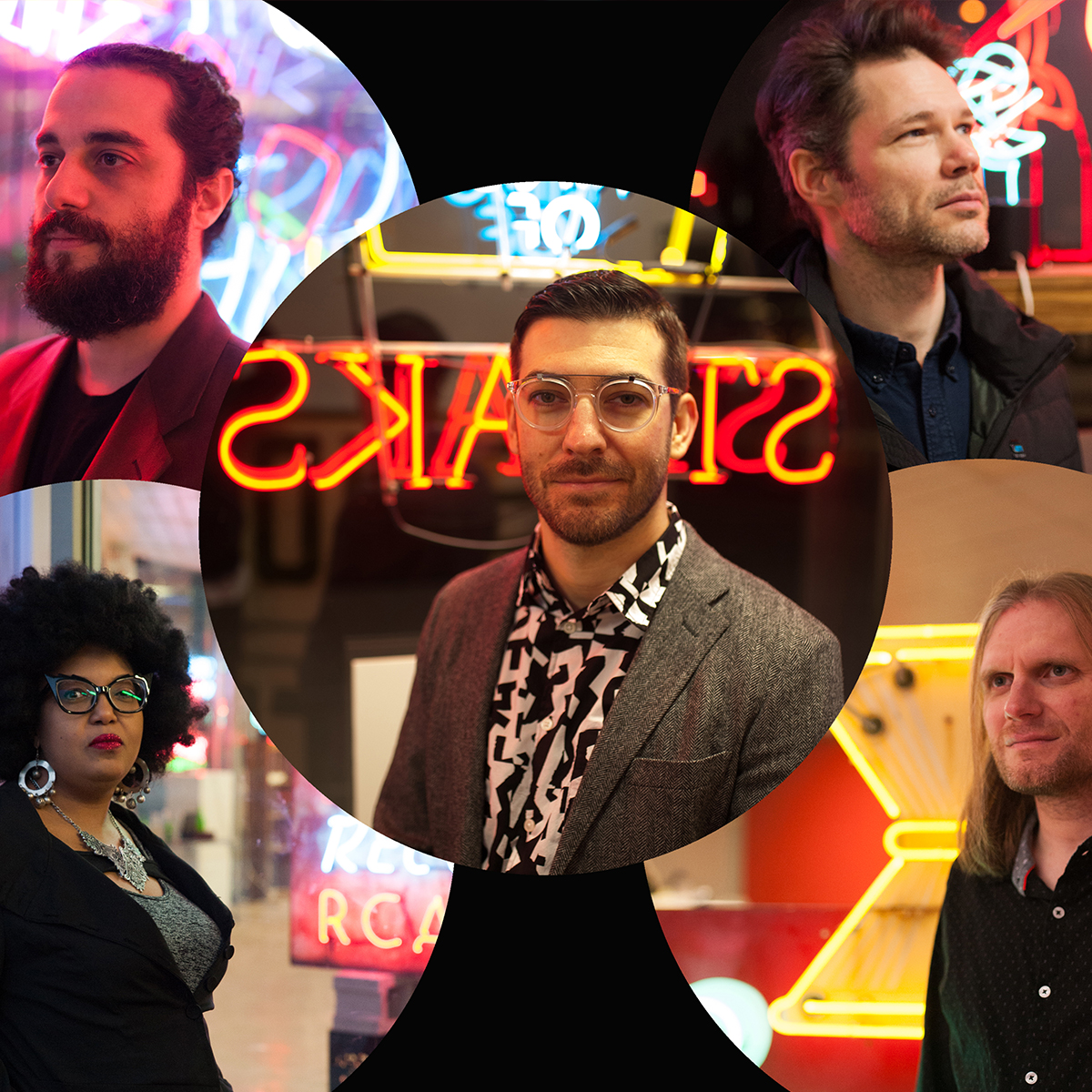 Films, Music Videos, & Photo Shoots
Contact us to discuss your event and check availability.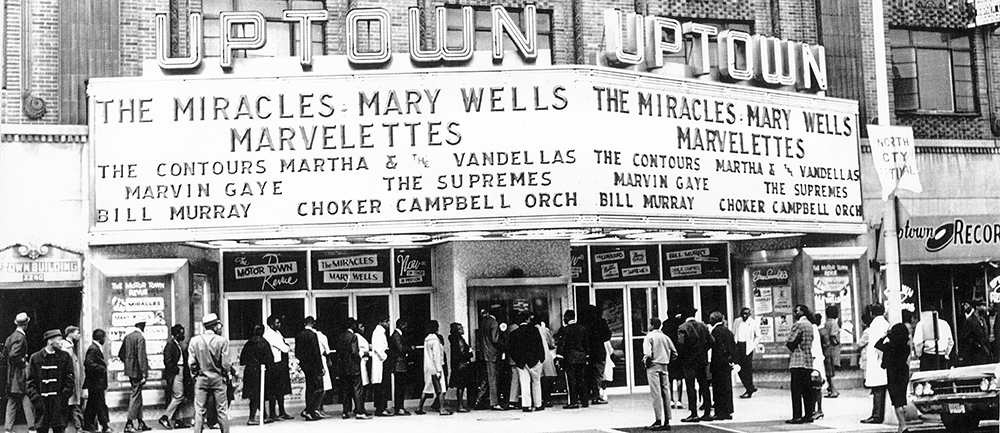 BEYOND NEON: SIGNS OF COMMUNITY
The Museum's signs are a window into pre-Internet America — communities built on mom-and-pop businesses, blue collar skills, kids playing in streets, and face-to-face interaction.
We celebrate facets of this 20th century culture. For example, when you visit try your hand at deadbox, a classic Philly street game. While the original was chalked on sidewalks, the Museum has produced a portable version featuring city icons. Challenge us to a game!
We honor this street-corner ethos in our displays, store, and ambiance. We can't provide stoops but we hope you'll hang out with us. We'd particularly like to hear your neighborhood or family connections to our exhibits as well as your stories of the American commercial culture we profile. Taking a page from the old Levy's rye bread ad: "You don't have to be Philadelphian to love the Neon Museum of Philadelphia."
The Museum is fortunate to be based in Philadelphia. We're constantly drawing on its astounding creative community, as well as like-minded individuals nationally. Our hope is that you'll join us and help shape the Museum's path.
Our programs are geared toward your participation and our very existence is the product of a network of talented individuals. The community's vision is broader than that of our founder or current team. Our activities are inspired by a changing cast of characters and by organizations with mutual interests.
We gratefully acknowledge:
Local sign makers
Bob Bodek, Sam Conterato, Carol Falone, Joe Feldman, Eve Hoyt, Val Maddalo, Nick Mancuso, Bill McWilliams, Eric Rothwarf, and Dominic Urbani
Artists, architects, and designers
David Bender, John Claypool, Steve Izenour, Denise Scott Brown, Alyssa Shea, David Slovic, Jeremy Tenenbaum, Nancy Rogo Trainer, Bob Venturi, Rachel Zimmerman, and numerous members of the Philadelphia Dumpster Divers including Harry Anderson, Neil Benson, Sue Harvey, Hugo Hsu, Vance Lehmkuhl, Kate Molina, Eva Preston, Leo Sewell, Joel Spivak, Isaiah Zagar, and many others
Sign devotees, preservationists, and historians
Noel Barrett, Chuck Biddle, Brian Butko, Ken Finkle, Steve Fitch, Alan Goldman, Larry Kanter, Kathy Kikkert, Beth Lennon, Inga Saffron, Paul Steinke, Rudi Stern, Tod Swormstedt, Doug Towne, Evan Voyles, Dave Waller, Howard Weinberg, and Peter Woodall, along with many members of the Society for Commercial Archaeology
Brilliant friends and philosophers
Charlie Abdo, Larry Denenberg, David Dobkin, and Jim Hiett