The Neon Museum of Philadelphia features over 120 vintage signs.  These pieces illuminate 20th century U.S. history with a focus on Philadelphia.  We offer changing exhibitions, videos, a museum shop and event space.
1800 North is also home to other arts-related organizations, a restaurant, and business incubator spaces.
COVID is still an important concern for our staff and visitors.  When city regulations dictate, face masks are required indoors.  And the Museum carefully controls capacity.
The Museum reserves the right to ask any visitor not following regulations to leave.
Neon Museum of Philadelphia
1800 North American St, Unit E
Philadelphia, PA 19122

Southwest corner of North American and Berks Streets
Friday:  1pm to 6pm
Saturday & Sunday: 12pm to 5pm
Reservations preferred but walk-ins welcomed.
THE MUSEUM IS CLOSED FRIDAY, NOVEMBER 25, 2022.
We are open 12-5pm on Saturday, November 26, and Sunday, November 27.
The Museum is permanently closing. Our final day open is Sunday, December 11th, 12-5pm.
$10 admission
7 to 12 year olds:  Free
Under 7:  Not admitted
To protect children and exhibitions, children under 7 not admitted and visitors under 16 must be accompanied by supervising adult
Members admitted free with membership card.  Memberships available.
Contact us for group and private tour rates.  
Bus Stops
#3 / #57: American & Berks Streets, in front of museum
#47: 7th & Berks Street, 10 min walk east along Berks to museum
Rail
Market Frankford Line: Berks Street, 8 minute walk west along Berks to museum
Regional Rail: Temple University, 15 minute walk east along Berks to museum
Free enclosed parking lot on site
NextFab's entrances are fully accessible to those in wheelchairs and with other mobility issues. The Neon Museum is also fully accessible. Please contact us if you encounter accessibility barriers or require assistance.
PHILLY-BASED: A celebration of artistic diversity in the city
November 11, 2022 - December 4, 2022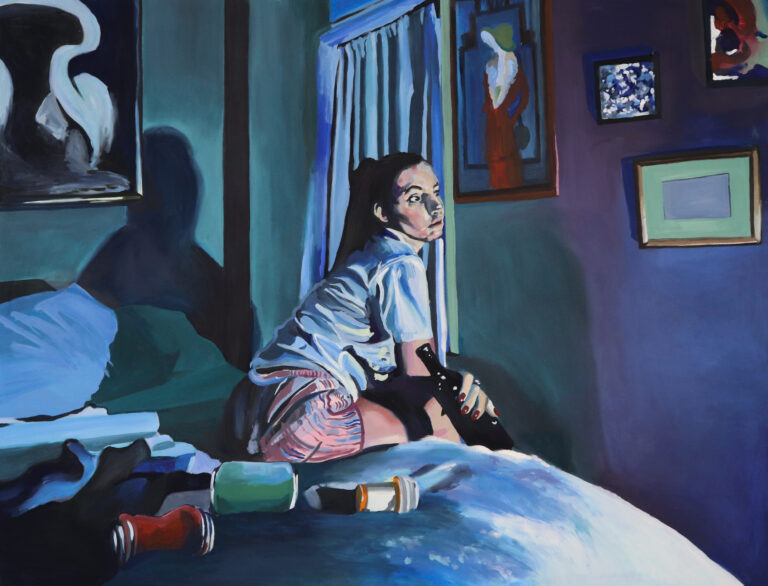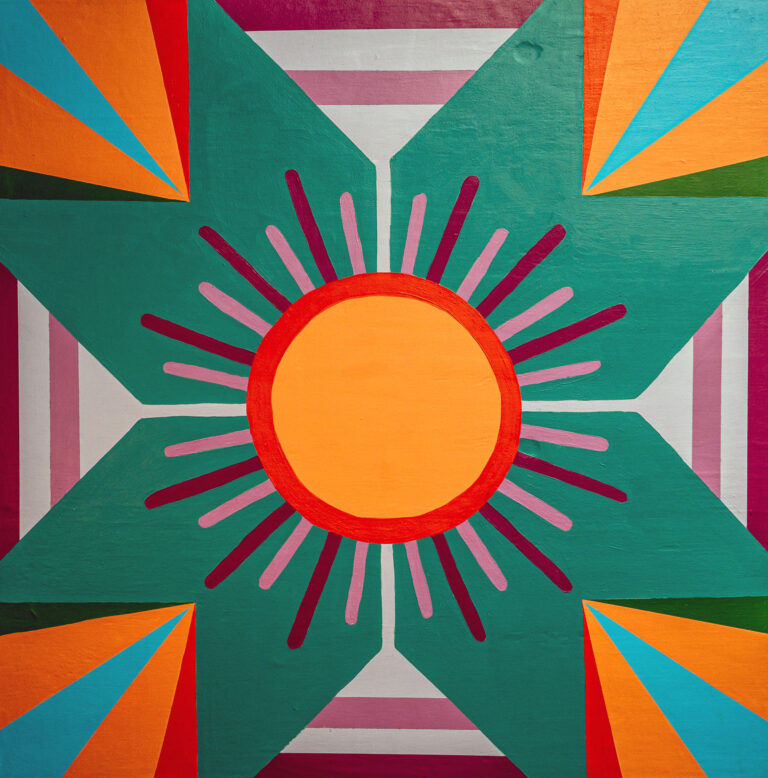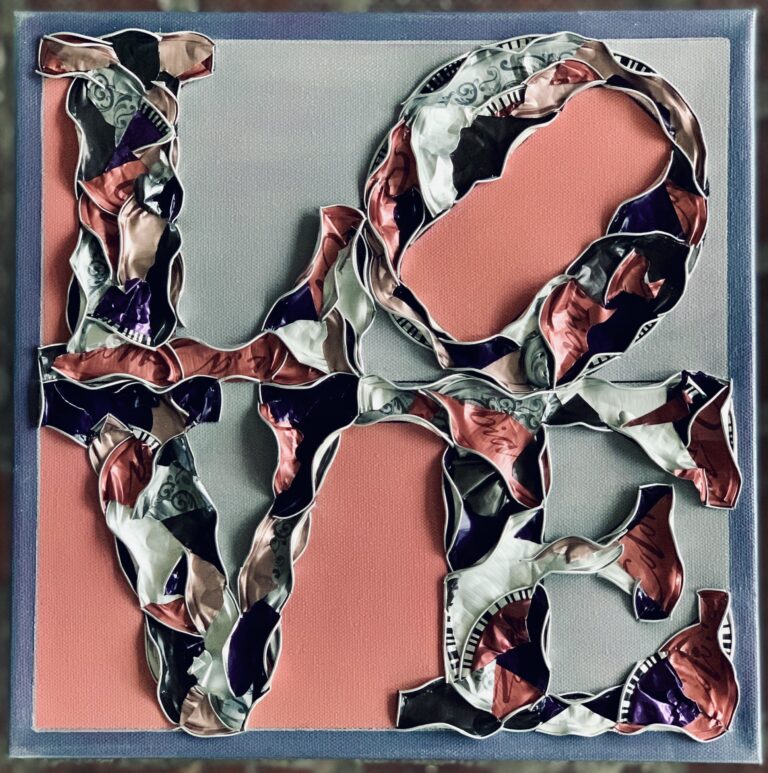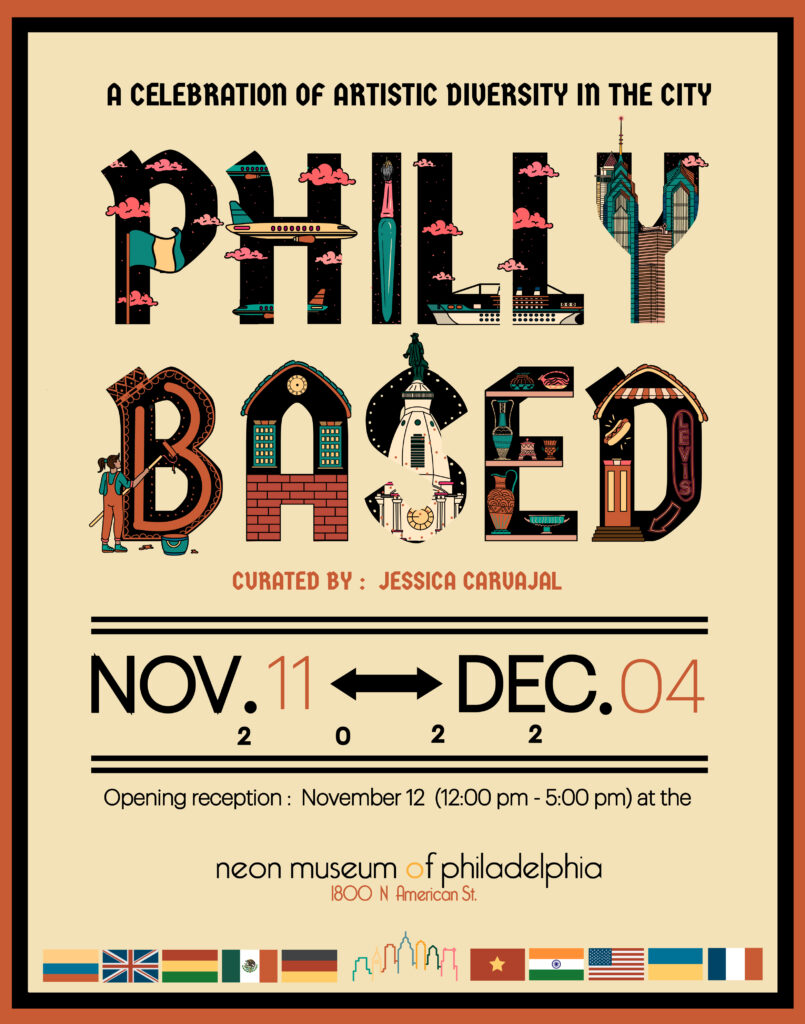 PHILLY-BASED: A celebration of artistic diversity in the city
November 11, 2022 – December 4, 2022
Opening reception: Saturday, November 12, 2022 from 12pm to 5pm
The Neon Museum of Philadelphia and illustrator Jessica Carvajal present 13 international artists who currently practice in the city of Philadelphia. PHILLY-BASED celebrates the creative contributions, flavors, and styles brought to the city by these artists, representing Philadelphia's strength as a hub of cultural diversity.
Featured artists:
Lara Cantu-Hetzler (USA)
Chau Nguyen (Vietnam)
Lauren Whearty (USA)
Yuliya Semenova (Ukraine)
Linda Fernandez (Cuba)
Ziania Narvaez (Mexico)
Daniel Mendez (Colombia)
Annabel Perrigueur (France)
Madeline Conover (USA)
Nicola Wescombe (UK)
Paola Lambertin (Bolivia)
Jessica Carvajal (Colombia)
Karina Puente (USA)
Curated by Jessica Carvajal.
In addition to our home at NextFab, the Museum's satellite venues remain a moveable feast with locations around the city:
The Neon Museum offers presentations and walking / bus tours for civic, educational, convention, and architectural groups. We explore neon history and Philadelphia vernacular design as a window into Philadelphia's commercial and cultural heritage. Most tours are local but we've presented at venues across the country.
SELECTED PAST NEON EXHIBITIONS
Avanti Gallery, Neon Visions, Philadelphia, 1988
Center for Architecture, Philadelphia, 2008 – 2013
Community College of Philadelphia, Philadelphia Illuminated, Philadelphia, 1986
Folk and Outsider Art Gallery, Pottstown, 2009
Moore College of Art, Collecting, Philadelphia, 1995
Park Towne Place, Light and Language, Philadelphia, 2018
Philadelphia International Airport, Terminal D, Philadelphia, 2001
Sedgwick Cultural Center, Philadelphia, 2004 (curator)
The Touraine, Penthouse Neon Party, Philadelphia, 2018
Venturi, Scott Brown and Associates, Storefront, 2001
Philadelphia Dumpster Diver Art Shows, 1995 – present